1Change
We're bringing the 1Change campaign to everything we do. From how we source and sell our products, to how we educate the next generation.
Check out our 1Change journey below.
Meet Cal, our Environmental Ambassador
As the founder of Paddle Against Plastic, environmentalist Cal Major has seen the damage caused by single-use plastics first-hand. Now she's teaming up with us to spread the word about plastic pollution and share the things we can all be doing to tackle the problem.
Cal's #PaddleAgainstPlastic Expedition 2020
---
Our Environmental Ambassador, Cal Major, has just completed her expedition across the River Severn, exploring the course of plastic from source to sea, and the relationship between our lives inland and the oceans, and we want to engage you, our members, about her journey.
Cal's aim was to connect the dots between the plastic used on land and that in the ocean through education, and to consequently empower small changes in behaviour to positively affect the marine litter crisis, reconnecting people to the nature on our doorsteps.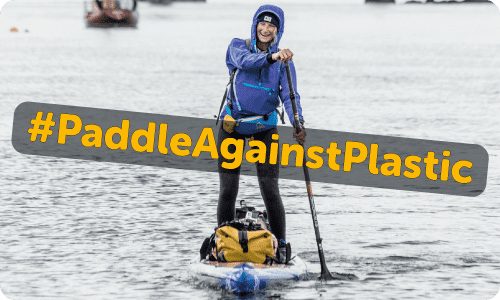 Rivers provide a perfect opportunity to do all of these - demonstrating our link between actions on land and impacts in the oceans, via the nature superhighways flowing through our country to the ocean.
From the 9th September, Cal followed the River Severn from its source in the Welsh hills, through 3 counties, to the sea.
The River Severn is the longest river in the UK at 354km, and it flows through Shropshire, Worcestershire and Gloucestershire, and the cities of Shrewsbury, Worcester and Gloucester.
Cal wused her Stand-Up Paddle Board to navigate the route and help tackle litter on the way.
To find out how Cal's expedition went:
Make your zero waste pledge
To help support Cal Major on this expedition and to celebrate Zero Waste Week, please pledge to take on your own zero waste challenge, by trying for a day or a week to not produce any waste that will end up in general waste. Try to only use materials that can be recycled or re-used.
Click here to make your zero waste pledge.
Ask Cal about her expedition and tackling plastic pollution
Interested in learning more about the plastic polluting our waterways and what we can all do about it? Or hearing more about our environmental ambassador Cal Major's latest expedition and what it took to travel all 345km of the River Severn on a paddle board this month? Submit a question to be answered by Cal in our upcoming video Q&A. We'll let you know when this is live.
Your question could be about:
Her most recent and past expeditions
The impact that plastics are having on the natural environment
Ways in which we can all work together to tackle single-use plastics
To submit a question, please click here.
Watch Cal's Expedition Film
Watch the short film below following Cal's expedition along the River Severn from its first navigable point on the Welsh/English border out to sea, through Shropshire, Worcestershire and Gloucestershire. Don't forget to subscribe to our YouTube channel by clicking here
Cal will try to answer as many of your questions as possible in a Q&A video and we'll be in touch when it's live.
1Change for a Cleaner World
---
The world is facing a crisis of single-use plastics littering our oceans and damaging our ecosystems.
But because we've always believed great things happen when we work together, we've introduced 1Change. A campaign to cut the waste we produce, while inspiring shoppers and communities to turn the tide on single-use plastics.
Just the Beginning
We've already achieved some great results with 1Change. Making a real difference every day as we work together to drive down plastics. We're always striving to do more, but here are some of our milestones so far:
Engaged over 1,000 member and community pledges to tackle single-use plastics in the community.

Enabled 1,000 eco-bricks to be created to build a Turkey shed made out of waste plastic for our community partner Fairy-tale Farm, by mobilising members, customers, community partners and schools to work together through our Cotswold Regional Community. Supporting circular economy principles, we are the first UK retailer to offer this innovative solution through eco-bricks, and have developed a community model that can be rolled out in other areas.

Helped rebuild the health of water, land and biodiversity in the community by enabling over 700 volunteers to tidy up 380 bags of litter from the natural environment across our 20 Regional Communities involving schools, members, community partners and colleagues.

As a result of our community engagement, we have been able to implement business changes that are resulting in a reduction of 2 tonnes of plastic per year through our operations

Working with our members we have replaced single-use plastic carrier bags with compostable bags in over 140 Food Stores, eliminating over 3 million plastic bags per year
World Environment Day 2020
---
Circumstances are a little different than last year when we helped to clean up several open spaces in many of your regional communities!
The lockdown has had a hugely positive impact on our environment, with litter is at it's the lowest level at the moment, people recycling more, getting out there and appreciating the world around them, nature is thriving! So this is a great opportunity to focus on other issues and reflect and plan for the future.
This year, on 5th June, we launched the premiere of our World Environment Day premiere, giving members the opportunity to see the impact we've made across the Society and in our local communities so far through our 1Change campaign, giving members the opportunity to comment with their ideas to help us further defend the environment!
World Environment Day Activity & Actions
You may remember on the 5th June we planned our World Environment Day video, calling on members and colleagues to tell us the 1Change they'd like us to make to further defend the environment, with all ideas being discussed and considered by our Environmental Steering Group.
Well from your ideas we have now agreed on the following Environmental commitments from the Society: