1Change
We're bringing the 1Change campaign to everything we do. From how we source and sell our products, to how we educate the next generation.
Check out our 1Change journey below and see how you can make a difference...
Make 1Change Your New Year's Resolution in 2021 & Get Entered Into Our Prize Draw!
Have you made your new year's resolution yet? Why not make 1Change and pledge to reduce your carbon footprint in 2021 and be in with the chance of winning a 'Zero Waste Starter Kit'!?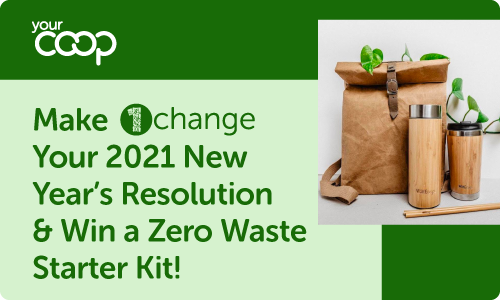 How can I get involved?
Firstly, you'll need to work out what your current carbon footprint is, before you can figure out what pledge you should make to reduce your footprint.
Once you've decided what your 1Change pledge is, just complete our simple form by 31st Jan '21 and you'll be entered into our prize draw to win a 'Zero Waste Starter Kit'.
To complete the World Wildlife Federation's (WWF) Environmental Footprint Calculator - click here

To submit your 1Change Pledge & enter our prize draw - click here
Not sure what pledge to make? Here are a few ideas to give you some inspiration...

Why is this issue important?
Taking 'Climate Action' is crucial, and we all need to play our part to make a difference. The United Nations have warned that unless global greenhouse gas emissions fall by 7.6 per cent each year between 2020 and 2030, the world will miss the opportunity to get on track towards the 1.5°C temperature goal of the Paris Agreement.
"Our collective failure to act early and hard on climate change means we now must deliver deep cuts to emissions – over 7 per cent each year, if we break it down evenly over the next decade," said Inger Andersen, United Nations Environmental Programme's Executive Director.
Here at Your Co-op we are making pledges as a business to build towards NET Zero Carbon targets, and we have reduced energy usage across our operations by 11% over the last 5 years, saving around 5,000 tonnes of CO2!
We're now inviting you to measure your own environmental footprint by using WWF's Environmental Footprint Calculator, so that you can see how your footprint compares to what is expected of you in the fight to tackle climate change. Please click on the link below to complete your environmental footprint.
Competition Terms & Conditions
Terms and Conditions
How to participate;
1. To take part, entrants must have submitted their pledge to reduce their carbon footprint via the online form.
2. This prize draw is free to enter, no purchase is necessary.
3. All entries received prior to the closing date will be valid. There will be 1 winner, selected from all entries received via the online form.
Restrictions;
4. Internet access required.
5. This prize draw is open only to UK residents aged 18 and over at the date of entry. This promotion is not open to any of their affiliate companies, their families, agents or anyone else connected with this prize draw.
6. Anyone connected with the administration of this prize draw is not eligible to enter.
7. The Promoter is not liable for entries which are not received or which are incomplete, corrupt or delayed for any reason. Proof of submitting an entry is not proof of receipt by the Promoter.
8. Only one entry per person will be accepted. Entries submitted on behalf of another person will not be accepted and joint submissions are not allowed. Incomplete, illegible, misdirected or late entries will not be accepted.
Opening and Closing Dates;
9. This prize draw opens on 31/12/20 at 9.00am and closes at midnight on 31/01/21.
The Prize;
10. There will be 1 winner selected from all valid entries.
11. The winner will receive a Zero Waste Starter Kit
12. The prize is as stated, is non-transferable and there is no cash alternative.
13. The winner will receive their prize within 28 days of notification. The result of the competition is final and no correspondence will be entered into, except with the winners. The Promoter is not responsible if a winner does not receive notification or delivery of their prize as a result of having provided incorrect/incomplete details when requested following notification.
14. The Promoter reserves the right to offer an alternative prize of equal or greater value. In the event of unforeseen circumstances or circumstances outside its reasonable control, the Promoter reserves the right to modify or discontinue, temporarily or permanently, this promotion without prior notice.
Notifications;
15. The winner will be notified via email. The Zero Waste Starter Kit will be delivered to the winner's address.
16. In the event that contact cannot be made with a winner by 15/02/21 then a new winner will be selected from other remaining entries and the original winner will forfeit the prize.
17. The winners will be selected in an independent random draw from all valid entries received during the promotional period.
Data Protection;
18. The Promoter may collect personal information from Entrants under the Data Protection Act 2018 and other applicable data privacy laws. The Promoter will only use Entrants' information for the purposes of the administration of this promotion. View our data protection policy here: https://www.midcounties.coop/legal/privacy
Acceptance;
19.The Promoter reserves the right to discount any inappropriate or offensive entries and to disqualify from the prize draw any entrant suspected of fraud or cheating including, without limitation, through the manipulation of codes, multiple computer generated entries, or otherwise in our opinion fraudulently falsifying data or acting fraudulently or dishonestly.
20. The Promoter cannot accept liability for any system failures, network errors, website unavailability, hacks on the system, personal computer issues or any other issue out of our reasonable control.
21. The Promoter's decision is final in every situation (including any not covered by these terms and conditions).
22. Entry to the prize draw shall constitute your acceptance of these terms and conditions and your agreement to be bound by them.
23. The competition and the terms and conditions are governed by the law of England and Wales.
PROMOTER:
Marketing & Communications, Food Retail, The Midcounties Co-operative, Co-operative House, Warwick Technology Park, Gallows Hill, Warwick, CV34 6DA
1Change for a Cleaner World
---
The world is facing a crisis of single-use plastics littering our oceans and damaging our ecosystems.
But because we've always believed great things happen when we work together, we've introduced 1Change. A campaign to cut the waste we produce, while inspiring shoppers and communities to turn the tide on single-use plastics.
Meet Cal, our Environmental Ambassador
As the founder of Paddle Against Plastic, environmentalist Cal Major has seen the damage caused by single-use plastics first-hand. Now she's teaming up with us to spread the word about plastic pollution and share the things we can all be doing to tackle the problem.
Cal's #PaddleAgainstPlastic Expedition 2020
Our Environmental Ambassador, Cal Major, has just completed her expedition across the River Severn, exploring the course of plastic from source to sea, and the relationship between our lives inland and the oceans, and we want to engage you, our members, about her journey.
Cal's aim was to connect the dots between the plastic used on land and that in the ocean through education, and to consequently empower small changes in behaviour to positively affect the marine litter crisis, reconnecting people to the nature on our doorsteps.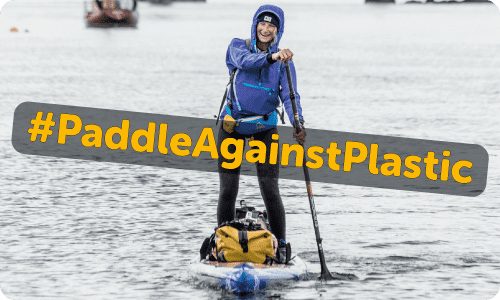 Rivers provide a perfect opportunity to do all of these - demonstrating our link between actions on land and impacts in the oceans, via the nature superhighways flowing through our country to the ocean.
From the 9th September, Cal followed the River Severn from its source in the Welsh hills, through 3 counties, to the sea.
The River Severn is the longest river in the UK at 354km, and it flows through Shropshire, Worcestershire and Gloucestershire, and the cities of Shrewsbury, Worcester and Gloucester.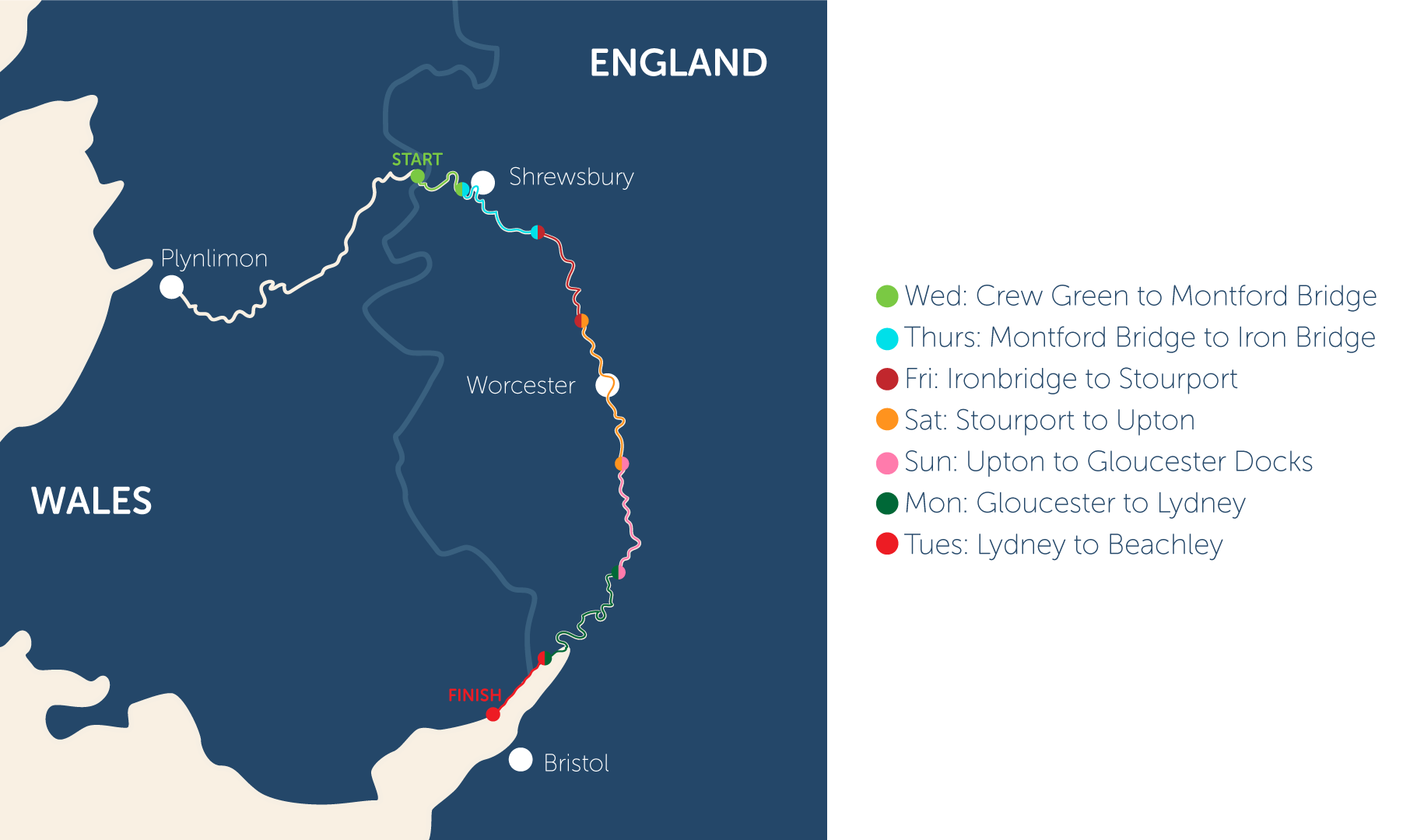 Cal used her Stand-Up Paddle Board to navigate the route and help tackle litter on the way.
Watch Cal's Expedition Film
Watch the short film below following Cal's expedition along the River Severn from its first navigable point on the Welsh/English border out to sea, through Shropshire, Worcestershire and Gloucestershire. Don't forget to subscribe to our YouTube channel by clicking here
World Environment Day 2020
Circumstances are a little different than 2019 when we helped to clean up several open spaces in many of your regional communities!
The lockdown had a hugely positive impact on our environment, litter was at it's lowest level for a long time, people recycling more, getting out there and appreciating the world around them. So this is a great opportunity to focus on other issues and reflect and plan for the future.
On 5th June '20, we launched the premiere of our World Environment Day premiere, giving members the opportunity to see the impact we've made across the Society and in our local communities so far through our 1Change campaign, giving members the opportunity to comment with their ideas to help us further defend the environment!
World Environment Day Activity & Actions
When we launched our World Environment Day 2020 video, we called on members and colleagues to tell us the 1Change they'd like us to make to further defend the environment, with all ideas being discussed and considered by our Environmental Steering Group.
From your ideas we agreed on the following Environmental commitments from the Society: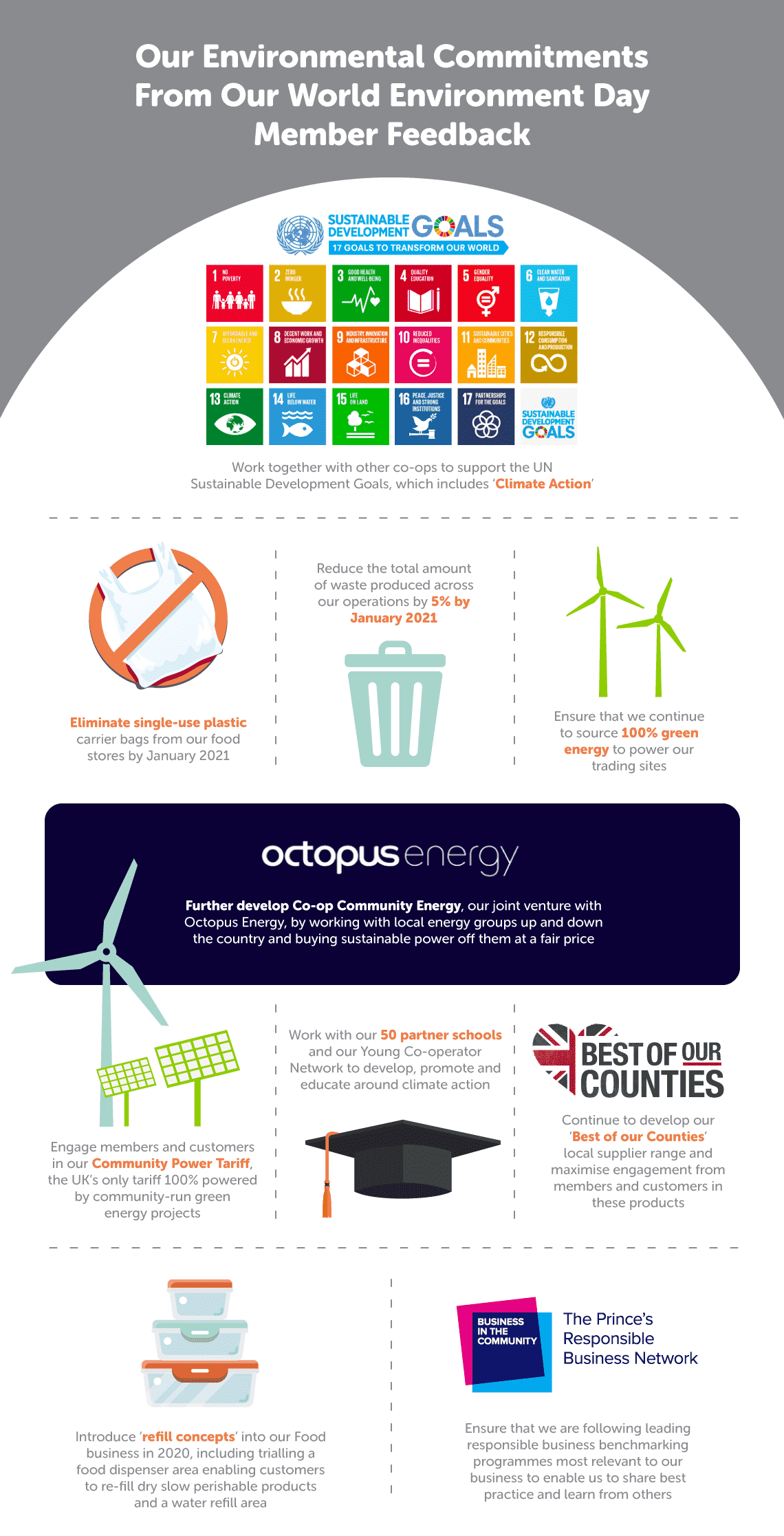 Just the Beginning
We've already achieved some great results with 1Change. Making a real difference every day as we work together to drive down plastics. We're always striving to do more, but here are some of our milestones so far:
Engaged over 1,000 member and community pledges to tackle single-use plastics in the community.

Enabled 1,000 eco-bricks to be created to build a Turkey shed made out of waste plastic for our community partner Fairy-tale Farm, by mobilising members, customers, community partners and schools to work together through our Cotswold Regional Community. Supporting circular economy principles, we are the first UK retailer to offer this innovative solution through eco-bricks, and have developed a community model that can be rolled out in other areas.

Helped rebuild the health of water, land and biodiversity in the community by enabling over 700 volunteers to tidy up 380 bags of litter from the natural environment across our 20 Regional Communities involving schools, members, community partners and colleagues.

As a result of our community engagement, we have been able to implement business changes that are resulting in a reduction of 2 tonnes of plastic per year through our operations

Working with our members we have replaced single-use plastic carrier bags with compostable bags in over 140 Food Stores, eliminating over 3 million plastic bags per year