Stay Safe & Let Us Help
We're delighted to announce that our home delivery service has now been extended until Friday 18th June 2021!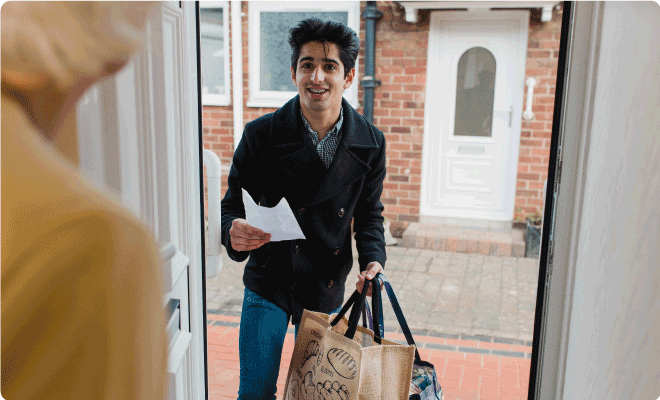 Volunteer & help us to help others
If you'd like to help us deliver food to vulnerable people, please click here.
Home Delivery Service - Service extended until Friday 18th June
We are pulling out all the stops to support the most vulnerable members of our communities. We have introduced a home delivery service for people who are self-isolating and can't get out to shop for food. If you, or someone you know, need our help contact the Midcounties Membership Team on 0800 435 902 then press option 1.
How it works
Contact the Midcounties Membership Team on 0800 435 902 then press option 1

We will take your order over the phone. Please be aware that this is a service for vulnerable people who are isolating at home.

We will call you back and give you a delivery window and tell you who will be delivering, and take a payment over the phone

You can then stay safely at home while we get your order together and get it to you. You will never be expected to let anyone into your home.
Call & Collect Service
Alternatively, for the more vulnerable in our local community who can now start leaving the home, but still need to social distance and stay safe, you can use our Call and Collect Service, find out more by clicking here.
Frequently Asked Questions
Home Delivery FAQs:
Q: Can I book a slot?
A: No, unfortunately, that's not possible as we are often relying on volunteers. This will be between 9-5pm though, and the store may be able to give you more of an idea, but please bear with us.

Q: What if my items aren't available, do you substitute?
A: Yes, if you notify us you would like substitutions. We will where we think appropriate. The store will advise you when they call back to confirm delivery if an item was not available.
Q: Is there a delivery charge?
A: No, we are providing this service free using local volunteers where we can, providing a minimum of 10 items are ordered and the delivery is 3 miles or less.

Q: Is there a maximum delivery area?
A: The store is working to a 3-mile radius as a guide, but the store will be able to advise. It may be different in rural settings like in Shropshire it may be 5 miles.
Q: How do we qualify all callers are "At-Need"?
A: We can't really it is open to abuse, but we would hope that's not the case and are sure that volunteers will feedback to the stores and advise if they suspect

Q What if nobody answers the door when delivered, what happens to my order?
A: We will try our best to contact you, if not your delivery will be taken back to the store and may have to wait until the next available time, or you can arrange for someone to collect for you.  

Q: How will you ensure that social distancing and hygiene is applied?
A: Your shopping will be dropped at the door, no one should come in your house, you and the delivery person should take all steps to ensure you maintain the 2-meter distance rule.

Q: How do I cancel an order?
A: You must contact the store where you have placed the order and they will advise.

Q: Can I collect Membership points?
A: Yes, your membership number will be put through the till when the order is made.

Q: Can I order on behalf of someone else?
A: You can but please ensure this person is isolated and "At-Need" – we are doing our best to help as many local people as we can at this challenging time.
Q: Do I need to call this number again for all reorders?
A: Yes

Q: Do I get a receipt?
A: Yes, this will come with the order

Q: Can I pay with vouchers?
A: Yes, please make this known when placing an order so we can add to the additional notes

Q: What payment methods are accepted?
A: Pay by card over the phone so they should have their card ready when they call.  If they say they don't have a card  they will be advised  that they should advise when placing the order and the store will implement the correct procedure, establish what the cash payment will be and send the change required with the order – however, this is to be considered a last option. We want to avoid handing cash in all cases if we possibly can.

Q: Will we deliver to someone who is self-isolating or showing signs of Covid-19?
A: The member needs to take the necessary steps to ensure that the virus is not passed on to community volunteer. The member should wash hands before opening their door and wear a protective mask to cover their mouth.
Your shopping will be dropped at the door, no one should come in your house, you and the delivery person should take all steps to ensure you maintain the 2-meter distance rule.

Q: Diamond Discount?
A: Yes, if your particular store offers Diamond Discount.

Q: Can the store deliver newspapers?
A: We are not taking orders for newspapers.
Members' Volunteer Support Fund
Members Supporting Members
Fund criteria - who can apply?
Community groups/Individuals who have a current and ongoing commitment to providing volunteer support to the Coop Midcounties Home Delivery service and where additional expenses are incurred as a result of this ongoing arrangement with us a volunteer.
What will this fund support?
The fund is specifically set up to offer our volunteers reimbursement of *expenses incurred whilst undertaking a volunteer role with Coop Midcounties, for example, additional ** fuel costs.
Or
For those community groups supporting us in this capacity who may wish to request a grant to support their existing operations/service delivery in the community, as an alternative to requesting a fuel expenses claim. We want to ensure that we are here to support your volunteers while they are supporting us!
How to apply
Please contact volunteer@midcounties.coop to request an application form.
Note: Only one application may be made by each individual or group per month for the period 1st July to 30th September 2020 up to a maximum of £250
Successful applications will be processed at the end of each month during the period the fund is open and paid by bacs
*related to expenses incurred from 1st July to 30th September only (no backdated claims will be considered)
**We will use the HMRC approved rates allowing for a payment of 45p per mile to a car user; 24p per mile for a motorcycle; and 20p per mile to someone delivering by bike, as the calculation for the reimbursement of costs incurred
Food Bank Partners
From December 1st our foodbank partners will be able to order bulk goods for collection from our stores, this offer will be in place until March 2021. To take advantage of this, foodbanks must already be working in partnership with a local Midcounties Co-operative Food Store. Please note there is a minimum order of £40.00 required to place this order.
Orders are placed via email to the Community Team email address - CommunityTeam@midcounties.coop, when placing orders please note the following detail:
Email subject header – Bulk order for ( insert name of your food bank)
In the main body of the email please include :
Name of Foodbank
Midcounties Food Store you are partnered with
Address of foodbank
Contact name/ number and email address of person placing order
Items required/quantity
The order will be sent to your nearest Midcounties store who will then contact you to take payment and agree a collection date.
If you require any further information about accessing this offer please contact the CommunityTeam@midcounties.coop